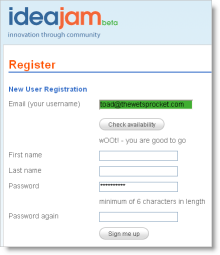 Bookmark :







After a lot of hard work and a few weeks of Pre-beta testing in which a lot of people got involved with, Bruce finally
announced
the launch date for
IdeaJam.net
, a place on the web where we can all share and vote on each others ideas on how to improve Lotus software products. Launch date will be November 20, 2007.
Congratulations on the upcoming release and on a job very well done!
Read the full press release
here