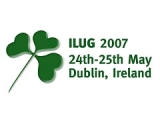 Bookmark :







Wow!
I've just emailed
Paul Mooney
with a request for permission to use the
ILUG
logo here and not only did he got back to me right away but he also let me know that there will be a Speedgeeking session. Thursday evening.
Thanks Paul, both for letting me use the logo and for allowing me to make this wee announcement.
See you in Dublin!