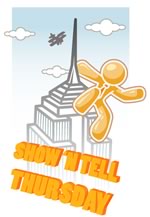 Bookmark :







Reading Martin Vereecken's blog
post
about testing web pages with different versions of IE just remembered me to share something I've been doing for a while. I stumbled on this a while ago and before that I was using the technique described by Martin which has some caveats you can read about in the comments to his post.
Our dear friends in Redmond were kind enough to provide us with what they call the "Internet Explorer Application Compatibility VPC Image". This is a set of virtual PC images containing pre-activated Windows XP SP2 with either IE6 or IE7. The images will expire on April 1, 2008. So, if like me, you are one of the 14 Notes/Domino developers stuck in windowsland you can get this and use it as your IE6/IE7 test environment.
Virtual PC is license free and you can get it
here
For the images go
here
.